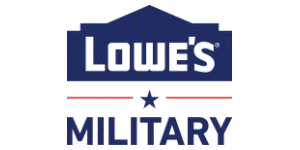 Warehouse Associate - Quality Assurance - Nights - Lowe's
Pittston, PA
Join us at Lowe's to earn a competitive Hourly Rate, Full & Part-Time Benefits, Tuition Reimbursement, Bonus eligible, Calm Work Life Services, Paid Time Off, and an Associate Discount! Our discounts are not only at Lowe's! The Benefit Hub provides discounts and rewards to all Lowe's employees. Discounts available to various merchants and service providers including cellphone plans, cars, electronics, food, gyms, financing, grocery stores, beauty, entertainment etc. All applications are welcome. This location has the greatest need for the below shifts.
Monday-Thursday 7pm to 5:30am

What You Will Do
At Lowe's, we've always been more than just a hardware store. We're also home to everything that makes your home feel like home. And for thousands of Lowe's associates, we're home to fresh starts, rewarding opportunities, and endless career possibilities.
As a Lowe's Distribution Center Operations Team Member, you'll play a crucial role in our nationwide supply chain — ensuring that Lowe's stores, customers, and communities have the products they need to get the job done.
What's in It for You?
Advantages
Lowe's Operations Team Members work in a dynamic, collaborative environment — safely receiving and shipping products, operating equipment, and keeping up with the high-energy pace of a Lowe's Distribution Center. Here's what else you can expect as an Operations Team Member:
Earn more (and save more): You'll receive competitive hourly rates and be eligible for performance-based bonuses. Associates also enjoy a 10% discount on Lowe's merchandise and access to thousands of other discounts, such as cell phone plans, car insurance, computers, gyms, and more.
Expand your skills: Opportunities for growth and development can be found in every role at Lowe's. Team members receive extensive training and have access to tuition reimbursement and trade skills programs.
Take care of what matters: Team members have access to comprehensive physical, mental, financial, and family care benefits.
Responsibilities
Performs safety inspection of equipment prior to use; handles and operates equipment and tools safely.
Works safely while performing tasks and using equipment (e.g., uses proper lifting techniques for handling product, warns other associates when moving into high traffic path, maintains safety zone around equipment).
Researches and assigns process discrepancies.
Audits processes across the facility to ensure correct process is being utilized and records inaccuracies in a database and reports to QA Supervisor.
Audits receiving packets daily/weekly to ensure all information is correct and free of discrepancies.
Performs scheduled cycle count of product in the facility; performs recount of product when inventory differences occur.
Works closely with Supervisors and associates to correct errors within current shift.
Identifies and resolves any safety issues on the floor and notifies the appropriate party for resolution if necessary.
Requirements
Team members work a set schedule that may include evening, overnight, and weekend shifts, with overtime availability (with additional pay for overtime).
Able to move throughout all areas of the facility and perform necessary physical activities continuously (with or without a reasonable accommodation) for a full shift with meal break.
Wear all necessary personal protective equipment to perform job functions.
Operate power equipment (e.g., forklift, center rider) with continual mounting and dismounting throughout the workday.
Able to lift 40 pounds at minimum; may have to lift up to 70 pounds.
Able to work in varying temperatures, extreme heat or cold, and/or wet, damp, dusty or drafty conditions.
Able to work without distraction in a loud environment.
Strong safety orientation and proven record of complying with safety requirements.
Ability to work independently with limited supervision, or with a team.
Basic math and reading comprehension skills including working knowledge of Microsoft Office.
Basic computer skills.
Preferred Experience
High school diploma or GED equivalent
Experience in distribution center operations or previous warehouse experience
Experience operating power equipment (e.g., forklift, reach truck, yard truck)
Experience performing detail-oriented tasks in a fast-paced working environment
Experience using spatial reasoning to position product effectively
Experience with software applications such as

Excel,

Access

or

Lowe's DMS

system
Experience

managing

multiple

projects/tasks simultaneously

requiring

a

strong

ability

to
Experience

using

troubleshooting

processes

to resolve problems
Bilingual, Military, and Veteran applicants are encouraged to apply.
For individuals with disabilities who would like to request an accommodation, email HRServiceCenter@lowes.com
Lowe's is an equal opportunity affirmative action employer and administers all personnel practices without regard to race, color, religion, sex, age, national origin, disability, sexual orientation, gender identity or expression, marital status, veteran status, genetics or any other category protected under applicable law.
* Benefits offerings change each year and eligibility varies. For the most up-to-date breakdown of what's available to you, visit MyLowesBenefits.com.
Lowe's adheres to CDC cleanliness and social distancing guidelines. Learn more at: lowes.com/l/safe.html
EEO Statement
Lowe's is an equal opportunity employer and administers all personnel practices without regard to race, color, religious creed, sex, gender, age, ancestry, national origin, mental or physical disability or medical condition, sexual orientation, gender identity or expression, marital status, military or veteran status, genetic information, or any other category protected under federal, state, or local law.
Source : Lowe's