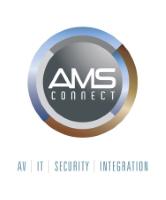 Service & Install Alarm Technician at AMS Connect
Palm Desert, CA 92260
We are local, Palm Desert, California Security and Audio Video Integration Company looking for reliable and hardworking people for both experienced and entry level technician positions.
Knowledge of one or more of the following would be desirable:
- Basic troubleshooting experience
- Use of basic hand tools
- Commercial and/or residential electrical or low voltage experience.
- Installation, testing, programming or repair of audio/video, burglar, fire, access, and/or CCTV systems.

- Must be organized, have a positive attitude, be ready to learn and take directions.
Requirements
- Pre-employment Drug Test
- Background Check
- Valid Driver's License & Clean Driving Record
-High School Diploma or Equivalent
- Professional Appearance
Benefits & Incentives:
- Medical, dental and vision coverage for employee (up to 100% paid by employer)
- Paid Holidays
- 401K Program
- Bonus Program
- Employee Discount
- Covid Vaccine Not Required
- Company Truck
- Potential Signing Bonus for qualified candidates/positions
*** Please email your resume HR@amsconnectme.com or Apply at amsconnectme.com ***
Only seriously applicants need to apply.
Job Type: Full-time
Pay: $17.00 - $25.00 per hour
17 - 25 /hour
- Medical, dental and vision coverage for employee (up to 100% paid by employer) - Paid Holidays - 401K Program - Bonus Program - Employee Discount - Covid Vaccine Not Required - Company Truck