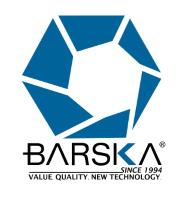 Sales Executive at Barska
POMONA, CA 91767
Position Overview:
Barska is looking for an ambitious, driven, and creative Sales Executive with experience in Retail / Distribution channel sales. The Sales Executive will oversee existing accounts with ability to develop creative and result-driven strategies that can continue to grow their portfolio, as well as the company's overall revenues.
Duties:
Identify new opportunities and business strategies for Barska's products.
Meet with customers to discuss their evolving needs and to assess the quality of our company's relationship with them
Continuous follow-up to build strong relationships and management of accounts.
Maintains communication with customers throughout the process. Answers and responses to inquiries of customer questions and logistics
Develop and implement new sales initiatives, strategies and programs to capture key demographics
Manage and organize trade shows including planning, booth design, booth set up, logistics, coordination and marketing materials etc.
Utilize MS Office products, specifically MS Excel and MS Word
Other duties as assigned
Requirements:
Excellent negotiation skills
Ability to attract and retain customers to build a base and a growing portfolio
Strong interpersonal communication skills
About Barska:
Since 1994, BARSKA's success and growth in the sport optics industry has been a direct result of our commitment "To Deliver Value, Quality and New Technology in Outdoor Products That Enhance the Consumer's Lifestyle". Year after year, we continually strive to provide our customers and valued retailers with the widest and most diverse selection of sport optics products available in the industry. By relentlessly working to achieve this goal now and in the future BARSKA will continue to grow and to be recognized as the brand of choice for the most innovative and extensive line of sport optics products available --- from riflescopes and binoculars to spotting scopes, shooting accessories, telescopes and other products that provide enjoyment to outdoor enthusiasts no matter what activities they pursue. In keeping with our goal of expanding and enhancing our product lines and making BARSKA your brand of choice for all your sport optics needs.
Job Type: Full-time