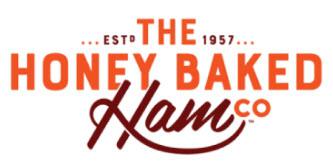 Sales Associate at Honey Baked Ham Co.
NASHUA, NH 03060
PERKS: Free food while you work, tips, mileage reimbursement, fun work environment, flexible schedules, competitive wages opportunity for advancement, free ham or turkey for the holidays, etc.

SUMMARY OF RESPONSIBILITIES:
Provides outstanding customer service to customers following HoneyBaked's sales and service processes.
Assists with food preparation, including lunch, catering and retail ham and turkey. Maintains store cleanliness
and merchandising standards.
ESSENTIAL FUNCTIONS:
 Follows HoneyBaked sales and service process to assist phone customers, catering customers, in-store
lunch customers and in-store retail customers.
 Consistently provides excellent customer service in a friendly and polite manner. Responds positively to
customer requests or comments.
 Demonstrates superior product knowledge and effectively articulates product features and benefits.
 Drives add-on sales through suggestion selling.
 Follows all cleanliness and food safety processes and guidelines.
 Prepares food according to HoneyBaked's processes and food safety and product quality standards.
 Takes initiative and remains productive throughout entire shift and takes responsibility for activities within
his/her control.
 Consistently follows all processes and procedures to standard.
 Strictly adheres to HoneyBaked's safety, security and respectful workplace policies and procedures. Living
the company values every day.
 Consistently reports to work on time and in proper dress code.
OTHER FUNCTIONS:
 Complies with company standards.
 Performs other duties as assigned by the store management team.
KEY RESULT AREAS:
 Overall operations as measured by inside and outside quality assurance audits, operational audits, product
quality evaluations and health inspections
 Customer satisfaction as measured by mystery shops, customer feedback tools and service execution
ratings
 Timeliness in preparing products
 Controlling waste
 Attention to detail
 Quality of effort; accuracy/thoroughness of work
REQUIRED EXPERIENCE:
 Prior customer service or food preparation experience preferred.
WORKING CONDITIONS:
 Requires working directly with Customers.
 Physical dexterity and mobility to perform demands of the job including working with hot torch, slicing
machines.
 Requires bending, stooping, standing for long periods, twisting and lifting products and supplies. Ham
production associates required to lift up to 65 pounds.
10 - 12 /hour
tips and mileage reimbursement.