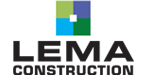 Project Manager Construction at Lema Construction
Saint Petersburg, FL 33716
Oversee the construction project from start to finish.
Develop project schedules, plan materials, and purchase orders, ensuring work is within project scope.
Responsible for qualifying sub-contractor estimates and bids, performing project buyouts, and managing subcontractors' progress against plan.
Oversee the construction schedule, budget and insure project is completed within deadline and budget.
Perform a key role in project planning, budgeting, and identification of resources needed.
Project accounting functions including managing the budget, tracking of team expenses and minimizing exposure and risk in the project
Ensure that construction activities move according to pre-determined schedule.
Devise the project work plans and make revisions as and when need arises.
Communicate effectively with the Sub-Contractors responsible for completing various phases of the project.
Co-ordinate the efforts of all parties involved in the project.
Periodic inspection of construction sites.
Ensure project documents are complete.
Identify the elements of project design and construction likely to give rise to disputes and claims.
Managing client and consultant meetings, and client approval of progress payments and variations.
Oversee and report progress and trouble shoot against construction schedules.
Proactively managing all issues in relation to site occupational health and safety to minimize accidents and lost time.
Preparing any necessary work flow schedules and monitoring same to enable meeting of reporting deadlines.
Informing the Management team on the progress of the work on all significant matters relating to or arising from the duties and functions under your control.
Ensuring that you maintain the name and goodwill of the company at all times.
Develop strategies to promote efficient and cost effective work practices and monitor and analyze work practices and cost factors within the project team.
120,000 - 160,000 /year
Health & Dental & Vacation 401K