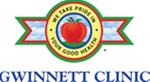 Pharmacy Technician at Gwinnett Clinic
Lawrenceville, GA 30046
Gwinnett Clinic in Lawrenceville seeks to hire an experienced Pharmacy Technician. Full-time or part-time candidates must have 5+ years of experience, excellent interpersonal skills.

Gwinnett Clinic offers:
**Excellent salary
**Life insurance benefit (no medical exam required)
**Health/Dental/Vision benefits to employees and dependents (after 90 days employment)
**Paid time off (after 1 year employment
**401(k) retirement plan with matching contributions (after 1 year employment)
**Disability insurance (after 2 years employment, no medical exam required)
Please visit our website at http://www.gwinnettclinic.com/about/join-our-team/ to learn more about the positions and requirements.
Qualified applicants may submit their cover letter and CV via fax ATTN: Dr. Mitesh Bhakta at 678-540-4777 or via email to humanresources@gwinnettclinic.com Questions may be directed to Dr. Bhakta at 678-226-6212 during normal business hours.