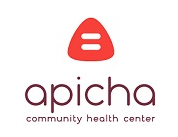 Medical Director of Mental Health Services at Apicha Community Health Center
NEW YORK, NY 10013
Our mission at Apicha Community Health Center is to improve the health of our community and to increase access to comprehensive primary care, preventive health services, mental health, and supportive services. We are committed to excellence and to providing culturally competent services that enhance the quality of life. We advocate for and provide a welcoming environment for underserved and vulnerable people, especially Asians and Pacific Islanders, the LGBT Community and individuals living with and affected by HIV/AIDS.
We are currently seeking a Medical Director of Mental Health to work at our 400 Broadway location.
Position Summary: The Medical Director of Mental Health will provide psychiatric care to adults as well as evaluate, diagnose and manage acute and chronic mental health conditions.
Qualifications: MD/DO Degree or equivalent medical degree from a medical school of recognized standing; Completion of an accredited residency program in Psychiatry; Board Certification in General Psychiatry; Unrestricted license to practice medicine in NY State; Current DEA certificate without restriction; Experience with primary care psychiatry or psychosomatic medicine; Experience working with underserved, APIs, LGBTQ, substance abusing populations desired; Ability to use common office software (Word, Excel, PowerPoint); Must have good human relations and communications skills; Knowledge of Asian language preferred