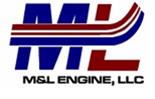 Mechanic at M&L Engine LLC
SCHRIEVER, LA 70395
OVERVIEW:
Responsible for performing quality maintenance, diagnostics, inspections, disassembly and assembly of all components or equipment (i.e.: engines, fuel systems, power generation, electrical components,electrical codes, etc.) in our shop. This may include failure analysis as required. Ability to work with and without supervision.
Ability to work overtime depending on job and customer requirements.
Respond to customers courteously and professionally. Willing to be part of a winning team to assist in answering customers questions and involving other team members when necessary.
Achieve and maintain technical competency and currency. Maintain adequate personal tooling to perform assigned tasks.
Company Representation:
Continually strive to achieve the highest level of credibility and integrity with customers and fellow employees.
Correspondence on the company's behalf should be consistent with sound business practices and should never jeopardize or compromise the company's position.
Confidential information should not be distributed outside the department without manager approval.
Maintain proper dress code and appearance consistent with company surroundings and customers.
Position Qualifications:
High School Graduate or GED necessary.
Accountability - ability to accept responsibility for his/her actions.
Ability to perform work accurately and thoroughly.
Analytical skills - ability to use thinking and reasoning to solve a problem.
Detail Oriented - ability to pay attention to the minute details of a project or task.
Honesty/Integrity - ability to be truthful and be seen as credible in the work place.

Benefit Options:
Health Insurance
Dental Insurance
Vision Insurances
Elective Insurance Programs (Cancer, hospital, Special event etc)
401k Retirement
Life Insurance
Paid Holidays
Paid vacation and sick time.
OEM training for shop and field technicians.


M&L Engine is an Equal Opportunity Employer.
Pre-employment drug screen and proof of employment are required for any position offered.


NO CALLS.
| | |
| --- | --- |
| Salary | |
| Job Type | Employee |
| Job Status | Full Time |