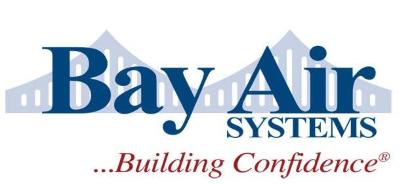 HVAC Mechanical Engineer at Bay Air Systems, Inc.
CONCORD, CA 94520
Job Description:
Our design-build project lead engineer is looking to train up an in-house support team and identify eventual replacements for when he retires. He would help our new hires in working toward their Professional Engineer (PE) certification.

This job will involve performing all engineering duties for design-build HVAC projects. Candidate will be expected to perform thermodynamics analyses, run load and flow calculations in order to determine appropriate applications and proceed with sizing the equipment, piping, and ductwork distribution for our projects. Candidate will prepare permit and construction documents that comply with applicable building codes. Experience in AutoCAD drafting is a must.

Qualifications:
- BS in Mechanical Engineering
- A desire to work in the HVAC field and progress toward your PE. Engineer-in-training or fundamentals of engineering certification a definite plus
- Mastery of AutoCAD. Experience in Revit is a plus but not required
- Strong understanding of thermodynamics, fluids, and HVAC/R concepts
- We are a drug-free environment
- Regular training opportunities will require your investment in time. You will be expected to stay abreast of the changes in your profession
- Ability to work independently and make informed decisions
- Ability to stay organized
- Self-motivated and detail oriented
- Ability to interact directly with customers, identify needs, create and present proposals
- Ability to positively represent the company and communicate with others at varying technical levels
- Excellent communication skills; both written and verbal

Benefits:
- Excellent compensation program with annual bonuses/ profit share
- Health insurance- Employee pays 25% of cost of medical throughout the year. If company is profitable, we will reimburse that 25% at year end. Bay Air has been able to do this for the last 15+ years, even through the financial crisis and COVID-19
- Dental insurance with Principal Dental
- Vision insurance with VSP
- Additional insurance options and supplemental dental through Aflac
- 401(k) retirement plan with company match and Roth option
- Health savings account funded by the company up to health plan deductible
- 2 weeks paid vacation
- 7 paid holidays
- Ongoing paid internal and external industry education and training
- ASHRAE membership reimbursement
75,000 - 90,000 /year
Listed salary is for entry level. This can be adjusted for experience.