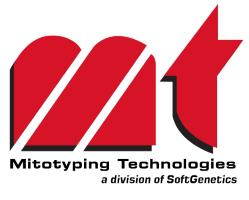 Forensic DNA Technician at Mitotyping Technologies
STATE COLLEGE, PA 16801
Mitotyping Technologies, a world leader in forensic Mitochondrial DNA analysis, has an opening for a Forensic DNA Technician to join our dynamic team in State College, Pennsylvania.
A successful candidate will be a team player who works with the other technicians and examiners to process casework samples and help out with other general lab duties. The most important job duty for this technician will be processing casework samples. The technician will extract, amplify and sequence mitochondrial DNA, consult with Forensic Examiners on casework samples, maintain detailed records of casework and perform admin reviews of case folders. The technician will also help out with general lab duties, including but not limited to restock supplies and reagents, wash and maintain all lab supplies, cleaning lab spaces and maintain and troubleshoot lab equipment. The technician will also help with evidence handling, including receive and log-in evidence, communicate receipt and return of evidence, label and store evidence and maintain chain of custody paperwork.
Ideal candidates will have a Biology, Chemistry or a Forensic Science related degree with extensive experience with aseptic lab techniques. Attention to detail, accurate record keeping, quick learning and being a self-starter are very important. The candidate will spend most of their day completing lab work.