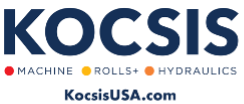 CNC Lathe Machinist- 2nd shift (10% shift differential) at Kocsis USA
ALSIP, IL 60803
As a 2nd shift CNC Lathe Machinist, you will be primarily machining rolls from various industries. In addition, you may also be machining different mechanical components.
Responsibilities
The ability to perform setups and operate machine efficiently
A proficiency at reading drawings
Measure and verify all calculations prior to set up of machinery
The ability to make tool offsets and edit programs
The skill to setup tools
Maintain a clean and organized working environment
Complete routine maintenance of machinery
Knowledge and Skills
Work multiple flexible schedules as needed to meet customer requirements
Other responsibilities deemed necessary by Management
Experience
5 years' experience and/or training in a job shop environment
Experience using Mazatrol controls (Beneficial but not required)
High School diploma or GED encouraged but not required
Any relevant manufacturing experience
Candidates should display an exceptional work ethic and either possess or be willing to learn the tasks listed above. Previous job experience requiring a mechanical aptitude, such as an auto mechanic, would be beneficial. Employees hired into this position, who excel at the associated technical skills, will be considered for advancement into machining and/or other assembly positions.