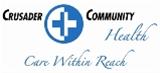 Certified Nursing Assistant (CNA) at Crusader Community Health
Rockford, IL 61102
POSITION SUMMARY:
The Certified Nursing Assistant performs various service duties and routine technical patient care tasks in accordance with agency policies and procedures, and within the scope of education of a Certified Nursing Assistant. For those working on a Patient Centered Medical Home unit, this position attends and contributes to regular team meetings and education sessions. This position reports to the Medical Unit Manager or Site Manager.
EDUCATION REQUIREMENTS:
High school diploma or equivalent
Successful completion of an accredited Nursing Assistant program and other applicable requirements to be considered a Certified Nursing Assistant
Current CPR certification
Crusader Community Health serves the Rock River Valley area with quality primary health care for all people in need. CCH provides a comprehensive benefits package which includes: Medical, Dental, Flexible Spending/Health Savings Account, Life Insurance, Accident Coverage, Critical Illness Coverage. Employees enjoy company paid Life Insurance, Short Term Disability and Long Term Disability, paid Holidays, Personal Days, accrued Paid Time Off hours (PTO)- 15 days in the first year, and access to CE Direct (to receive some of your continuing education credits required to maintain your certification). Additionally, employees may enroll in the CCH 403(b) Retirement Plan, with employer match after one year of service.
For a complete job description, please visit Crusaderhealth.org.
Crusader Community Health is an equal opportunity employer. All qualified applicants will receive consideration for employment without regard to race, color, religion, marital status, age, national origin, ancestry, physical or mental disability, medical​​​ condition, pregnancy, genetic information, gender, sexual orientation, gender identity or ​expression, veteran status, or any other status protected under federal, state, or local law.