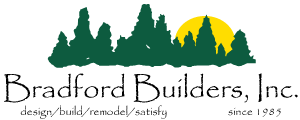 Carpenter, skilled at Bradford Builders, Inc.
GREENFIELD, IN 46140
If you are a skilled, experienced carpenter proficient in framing and interior trim carpentry, we want to talk to you!

We are a Hancock County-based remodeling company with steady, year-round work. We need a talented carpenter with tools, truck, and preferably three years' experience to join our team. Bonus points if you can also do plumbing, electrical, and drywall work. We offer steady work, competitive pay, and a comfortable work environment.

We're ready to hire, so get in touch with us today!