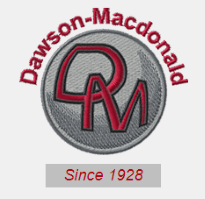 Accounting Manager (10 years experience) at Dawson-Macdonald Co., Inc.
WILMINGTON, MA 01887
Seeking an experienced Accounting Manager for mid-sized industrial distributor located in Wilmington MA to actively manage, participate, and oversee all bookkeeping, payroll, invoicing, accounts receivable and accounts payable related tasks.
The Accounting Manager will be working on multiple projects at one time and will need to describe and report financial data, perform cost-benefit analyses, analyze data and control expenditures. The Accounting Manager will assist in the operations of various departments within the organization and report to and work directly with our CFO.
Responsibilities:
Assist with the development of accounting policies and procedures.
Analyze accounting systems to find areas for improvement.
Create, review and evaluate financial statements.
Provide financial advice to management.
Provide financial data to our CPAs, bankers, insurance agents as required.
Manage accounting staff.
Cash management and collections.
Research and analyze accounting issues.
Ensure compliance with federal, state and local filings and regulations.
Minimum 10 years broad-based professional experience with most recent 5 years in a supervisory or management role in accounting.
Ability to appropriately handle sensitive and or confidential information.
Preferred: Industrial, distribution experience, ERP deployment, basic IT, fixed assets.
We offer a pleasant, friendly work environment conveniently located off Route 93 in Wilmington.
Benefits package includes medical/dental, life insurance, long-term disability, and 401(k) and profit sharing.
Interested qualified candidates are asked to submit cover letter with resume.
No agencies or phone calls